The SOLACE 345 is a new innovative design in a once stagnant center console market. Daugherty changed the game by adding additional deck space with the patented FishThru® Transom and transferring the engines outboard away from the traditional center of the boat. With the engines farther apart, the boat is allowed to run in shallower water and handles like an inboard boat using the throttles to control the boat to pivot and turn.
The term "innovative" is not thrown around lightly here at Cape Yachts, and no boat can fit this description quite like the SOLACE 345. The patented FishThru® Transom, allows for increased maneuverability when hooked on to the catch of your life, as well as ample room for relaxation in the sun. Along with this new design, the 345 features a carbon epoxy hull which provides a rigid hull and stinger combination, which eases through the turns and runs strong with the waves. Crossed between a sportfish and a cruiser, this boat is the perfect combination for the fisherman and those looking for enjoyable days out on the water.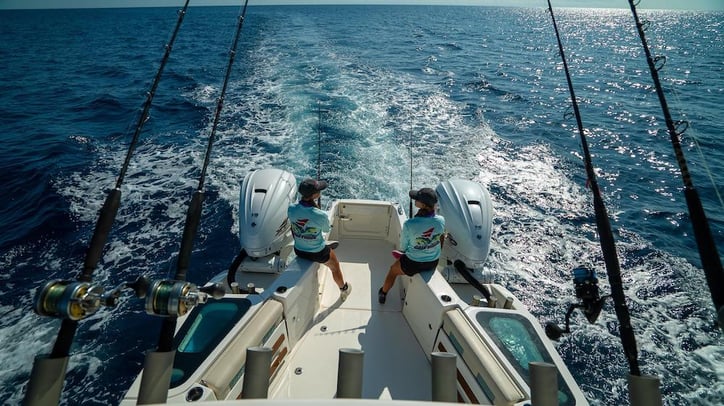 Our experienced captain and Yacht Broker, Kyle Smith described his time out on the water with the 345:
"The boat was impressive both dockside maneuvering and open water handling. The twin Yamaha 425hp engines allow for enough power to push through the roughest of seas while the standard Seakeeper keeps a stable platform. With the innovation, top construction, and standard options, it is no wonder why this boat won Best in Show and Boat of the Year! The SOLACE 345 will be a force to recon with!"
With the convenience and power output of these outboard engines and the handling like an inboard engine, this boat provides the best of both worlds for any boater. When looking for your next boat look no further than the SOLACE 345. The innovative design accompanied by the opportune features makes it undoubtably stand out from its center console predecessors. No matter the activity, this boat will provide you with an innovative experience that will make you daydream about your next chance to get on the water. Watch this video to see the 345 in action.