The Fall Run is in full swing, the time of the year anglers live for. The fall is the ideal time of year for anglers targeting a PB for striped bass. Striped bass is a migratory fish and arrives in New England in April. Throughout the summer they plump up and in the fall they start to prepare for their migration. This causes them to feed...on everything. They regroup in schools and are on the hunt for baitfish or anything that crosses their vision, it is an anglers dream. Fishing for striped bass is one of the highlights of the Buzzards Bay area and whether it is the Cape Cod Canal, Apponaganset Bay, or the Westport River, you'll be sure to catch your PB this season. With the Fall Run upon us, there is no better boat on the market for fishing than the recently unveiled SŌLACE 41CS.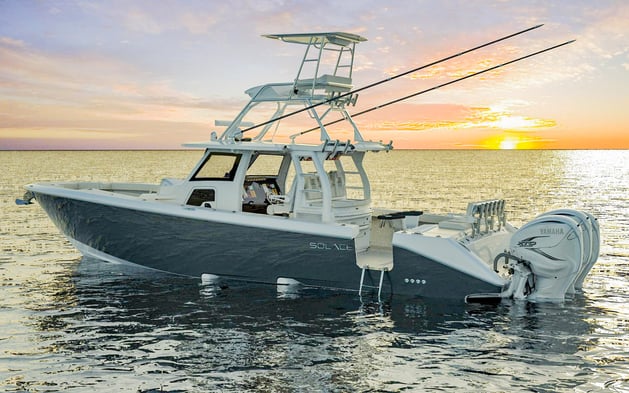 SŌLACE made headlines in 2019 with the SŌLACE 345 as it was the 2019 Boat of Year and they are back at it again for the 41CS. This is their second boat they've developed, the 41CS has more features in a family/fishing center console than the industry has ever seen. She offers the largest center console boat cabin on the market, their revolutionary one-piece dive door, and the classic SŌLACE electric windshield.
In terms of features, the SŌLACE 41CS comes stocked with every feature you could ever need, plus some! For the anglers, she has above and below deck fish boxes, a full work station with sink, grill, coolers, tackle storage, and seating, a fishing-friendly bow area, and gyroscopic roll stabilization. She's equipped to handle up to 1,800 hp, includes a dual 50 gallons live wells, a one-piece dive door with integrated ladder, and adaptable transom seating. No matter what your boating preference is, the SŌLACE 41CS will allow you to raise the biggest of fish while offering the safety and fun of a family cruiser.
Unable able to wait for the brand new SŌLACE 41CS? Check out these other great sport-fishing options we have in our inventory, including the SŌLACE 345!