In much the same way that a successful stock or real estate broker studies their market, experienced yacht brokers are continually analyzing theirs. To stay current with pricing trends, supply and demand, and notable transactions, they follow the international yacht listings closely.
As experts in all types of watercraft, professional yacht brokerages employ experts with real-life experience with all kinds of boats for recreation, cruising, fishing, sailing, or living aboard. An experienced yacht broker knows how to evaluate the condition of any watercraft and can assess its fair value relative to the current market.
And the yacht broker understands every aspect of a sales transaction and will make sure both parties achieve a satisfactory conclusion. Your broker will also be the conduit for negotiations between the seller and buyer.
How to Choose a Yacht Broker:
Questions to Ask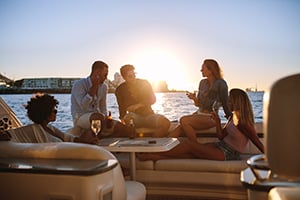 Whether you are selling your yacht or are just entering the market to buy one, working with a reputable, longstanding yacht brokerage is a vital first step. Without the knowledge, judgment, and frames of reference provided by an experienced broker who understands the market, you can easily undersell if you are a seller or overpay as a buyer.
Here are some characteristics to consider when choosing a yacht broker:
Reputation: Look for a brokerage that has been in business for more than a few years. Check market resources to learn about the breadth of their business, quality of their reputation and professional image, and read the reviews.
Advantages: If you are a buyer, an experienced broker can help you locate the type of boat you are seeking. For the seller, brokerages have the resources to find a prospective buyer anywhere in the world. Brokers also provide expert closing support to ensure the transaction is consummated entirely and without undue stress.
Knowledge and Experience: Discuss details with the broker before committing. A good broker should be able to demonstrate the expertise and resources that set them apart from others.
Marketing Plan: If you are selling, ask how the brokerage will be marketing your yacht. What kind of budget, technology, and reach do they have for getting the word out to prospective buyers?
Commission: Make sure the broker's services are justifiably priced. In most cases, the benefits of better pricing, less hassle, and a positive outcome will far outweigh the commission you pay.
Professional yacht brokers have many resources to showcase your boat. Besides listing in the Current Inventory section of their company website, brokers have access to a Central Listing Agency that works much like the real estate MLS listings. In this format, your yacht will be presented according to type, size, age, and price with photographs to show the attributes positively. Queries will be handled by the broker on your behalf.
This approach casts a far wider net (with better results) than your local newspaper ads.
What is a Marine Survey?
As a prospective buyer of a used boat, you want to know the exact condition of the yacht you are considering. Your broker will commission a boat survey conducted by a marine surveyor. That individual is licensed to inspect and report on deficiencies, much as a licensed home inspector does.
Yachts brokers love being around the water, the relaxed atmosphere, and others who share the same interest. Engage an experienced yacht broker in a conversation about boating, and you soon realize that their job is more than a business. It's a passion. They love what they do and enjoy seeing others achieve their dream of owning a yacht.
The Big Question: Why Should I List My Boat With You?
If the broker has a longstanding presence and a vast portfolio of satisfied past customers, they must be doing something right. Check out their recent sales and glean the reviews to see how others have fared. Listen to their marketing ideas and inspect a recent list of their comparable sales. Additional questions to ask might be: What was the average time-on-the-market for your type of boat? How many yachts like mine have you sold?
If answers to your questions are positive, you have likely found the right broker to help you buy or sell your yacht. If you are still looking, be sure to consider Cape Yachts. We have been helping families find the right boat for their family since 1968 and have a sterling reputation. Contact us today to learn why!