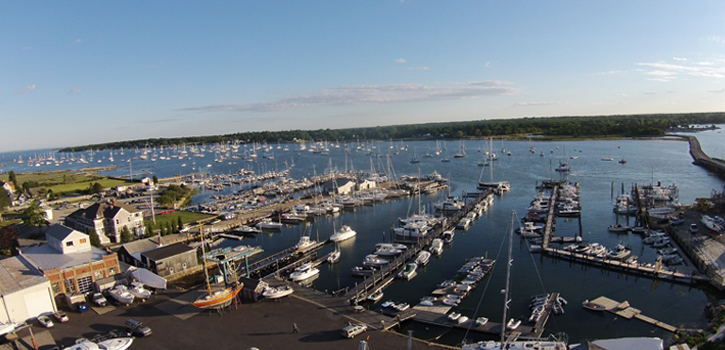 It is an undisputed fact that we boat in some of the best cruising grounds in the area (well…undisputed around here anyway). Please voice your opinion and share your thoughts. We would love to hear your best harbor favorites in the New England area and comment on what others have posted. This will be the start of a new series, so please check back often for new comments and posts. We look forward to your thoughts and appreciate topics, such as: navigational issues, boatyard and marina facilities, restaurants, anchorages and favorite happenings ashore. Of course, your least favorite harbors are also welcome. Be sure to join us in discussing both.
Great Harbor, Massachusetts
Allow me to get the ball rolling. Great Harbor and Eel Pond in Massachusetts are a couple of my favorite spots. You probably have passed this harbor by more times than you realize. Great Harbor sits just north of the Woods Hole passage. You will find the entrance to Great Harbor at buoy # 2 (red) in the actual passage. Leave #2 to your port and then look for Great Harbor buoy # 9 (green), leaving it to port as well. Easy in and easy out…assuming you are paying attention to the swift currents Woods Hole is (in)famous for. Leave plenty of buoy room and you should be fine. Please refer to your charts before attempting.
Once you make your way in, you have a few choices. Anchor in the designated areas (refer to your charts), or call the very friendly Woods Hole Yacht Club on channel 69. They may have a mooring available, but they do not provide launch or any kind of services. A dinghy dock, however, sits right in front of the club. If you anchor, do ask permission to leave your dinghy there. It has been our experience that the Woods Hole Yacht Club is one of the friendliest and most charming in New England.
An added bonus is boat-watching the ever-present traffic through "The Hole." We had the pleasure one Sunday morning, of watching the very impressive New York Yacht Club fleet pass through on their way to Nantucket for their annual cruise.