Technically, it is New Shoreman, but for many of us it is simply Block. To the locals it is "The Little Pork Chop." Like an Emerald in the sea, beautiful bike paths, spectacular views and best of all, no chain stores, but for one tiny Ben and Jerry's. It is refreshing, clean and beautiful. My daughter went to work there for the summer in 2016. She never left. There are stories of pirates and things the locals did with lights ashore, but that is for another time.
So, onto my favorite cruise to Block. We were sitting around the Moorings bar in Newport, waiting for a storm front to pass betting on a favorable NW blow to make our trip easier. There we sat….finally the front passed around 10:30 pm. Captain Tom, his gal Betsy, Sue and I climbed aboard Palma for our trip to Block. Cruising at night is very special, the stars, oh my the stars, something to behold. Great wind that night, NW at around 16 knots and we just set the rhumb line for 1BI and off we went. Taking 1BI to port makes entry into New Harbor on Block a snap, if you want peace and quiet, New Harbor is much better than Old Harbor on the North East side of the island where the ferry's come in.
The cocktails at the Moorings took its toll on Tom and after passing Point Judith, he said he was going below to take a nap and handed the wheel to me, I was overjoyed to do that, no problem. As we cruised to New Harbor and approached 1BI I thought it would be funny to see if I could wake Tom up with the clanging of the bell. Sure enough, as we got closer the noise woke Tom up, his head popped out of the forward hatch, "you hit that buoy, I'll have your head!" I could not stop laughing.
The Moon gave us a good view of the outer mooring field in New Harbor, setting the hook was easy as the sky brightened, by now it was about 4:30 am. After a short nap, and by 10:00 we were off on the launch for a tour of the Island. This was not my first trip to Block, the Owen Mitchell Regatta, BI race week and many other great trips. I will tell you this; there is no place on earth like Block Island. Plan to take a cruise, you will not be disappointed.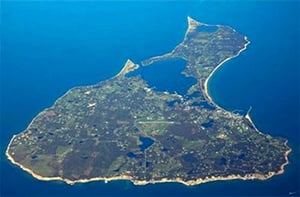 So, onto the adventure! Block is not huge so walking about is fun and easy, starting in New Harbor there is the famous Oar Bar, known for it's great food and Sushi, the restaurant has hundreds of oars from all over the world mounted on the walls, fun just looking at them all (including my wife's). A couple of miles walk to Old Harbor, there is the National Hotel, the Harbor Grill and a plethora of little shops. After a little shopping, you can rent a couple of bikes and head toward the Southeast Lighthouse. They moved the lighthouse back from a precarious perch over the bluffs a few years ago to be sure it was safe. The views are spectacular and from here you can see the wind power generators providing all the electricity for the island.
As we continue past numerous ponds, past the Block Island airport, the pristine hills and valleys make biking my first choice to explore. A couple of biking hours later we are back in Old Harbor, returning our rental bikes and heading back to the boat. So, our day ends back aboard the boat, with a few cocktails, steaks on the grill and to enjoy a breathtaking sunset.
Life is good, Block never disappoints, you we will return.
This is just one of the many beautiful harbors to cruise in New England. Our team have been boating on New England waters for many years and have fond memories. We will continue to share more of our favorite destinations in our Blog in the days ahead and we encourage our readers to do the same. If you have a story you would like to share, please contact us today. We also encourage you to share your memories and photos on our social media sites.