Every year boaters from around the globe flock to Florida to attend the largest in-water boat show in the world. The Ft. Lauderdale International Boat Show is open October 30 to November 3 and will take place at Bahia Mar showcasing six miles of floating docks with more than 1500 boats on display. This year the show is celebrating its 60th year hosting the event in Ft. Lauderdale, considered the Yachting Capital of the World, and is sure to be celebrating this milestone in style.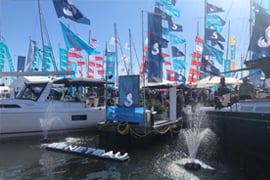 The show includes a large array of the latest boats and yachts, as well as other marine products and accessories for lovers of the nautical life. This show serves as the unofficial kickoff event for the annual boat show season in Florida, ending with the Miami International Boat Show in February.
If you're thinking of attending the show, there will be a lot to see. The water will be stocked with some of the biggest names in boating. The Cape Yachts team will be at the show in both the Beneteau and Hatteras/CABO booths and will be available to help you step aboard and see these beautiful boats up close. If you have been thinking about buying a new Beneteau Powerboat or Sailboat or a Hatteras Motor Yacht or Sportfishing Yacht, now is a great time to make that dream come true. The new Cabo 41 will also be available to step aboard at the show.
Beneteau Boats at Ft. Lauderdale INTERNATIONAL Boat Show
This year at FLIBS, Beneteau will have an exceptional display (located in the Red Zone G Docks 714-720 and Red Zone G/H Docks 35-37) including new boats making their debut at the show. The new boats include the Monte Carlo 52, Swift Trawler 41 and the all-new Gran Turismo 36 OB. Other boats on display include: Monte Carlo 6, Swift Trawler 35, Swift Trawler 47, Gran Turismo 46, Gran Turismo 50, Antares 23, Antares 27 and Oceanis 51.1 Sailboat. There is truly something for everyone in this line up.
Hatteras/CABO Boats at Ft. Lauderdale International Boat Show
Hatteras/CABO has a new location at FLIBS this year. You will find us on F Dock, on Slips 610-622. Hatteras is currently celebrating its 60th year as a premiere yacht builder and will be sure to have some great incentives available at the show.
Stop in and see their line of motor yachts being displayed including the Hatteras 105 RPH, M90 Pancera and M75 Pancera. They will also have their line of sportfishing yachts in the water and on display. These include the GT70, GT59, GT45EX and the all-new CABO 41 that debuted earlier this year.
If you would like to step aboard one of these beautiful boats at the show, please contact Cape Yachts today. We would be happy to schedule a showing of the boat and give you a tour of all of its amenities. Make an appointment today, be onboard your new boat tomorrow!