With a new year in front of us, we can reminisce on all of our memories and accomplishments of 2020. With the help of our committed team and our amazing customers we were able to make the most out of the year with a record number of boat sales, awards, and many new faces and friends, and some fun along the way. In the words of owner and president Dave Nolan, "We came into 2020 strong and we are leaving even stronger."
2020 By the Numbers:
1-New Boat Line
We announced in December, that we'll be bringing True North back to New England. True North, which was recently acquired by Catalina Yachts, brings a classic downeast style to our fleet and gives a traditional offering to our faithful New England customers. These go-anywhere boats combine timeless good looks and outstanding performance. Their graceful exterior and spacious interior provide a seaworthy experience, perfect for any adventure.
2-Top Gun Awards
Two of our team members won BENETEAU Top Gun awards. Schuyler Donavon was number 1 in America for outboard sales and Richard Moore was awarded the number 1 spot for inboard sales.
4-Boat Shows
This year, Cape Yachts attended four boat shows including, the Miami International Boat Show, The Fort Lauderdale International Boat Show, New England Boat Show and for the first time ever, the Steelpointe Boat Show in Bridgeport, CT. Be ready for more Cape Yachts appearances in 2021!
4-New Team Members
We welcomed four new members to our ever-growing team. Henry Pendleton and Zach Theno joined our team of brokers, and have excelled in their new roles. We added new members to our marketing department including Marketing Manager Julie Renoir and Corey Lesieur, each bringing a unique skillset and personality that better completes our team. Welcome aboard everyone!
33-Boat Handovers
Nothing is more special than witnessing someone receive their brand new boat and with thirty-three boat handovers this year, we were not short of delighted faces, broken champagne bottles, and speeches from our brokers.
96-Members Added to the Family
With a record amount of boat sales including new and brokerage boats, we welcomed almost 100 new members to our Cape Yachts family!
412-Social Posts
Our social media is a great way to stay up to date on all things Cape Yachts. With multiple posts a week it is where you want to be to find out about special announcements, new listings, events, and anything happening in our marina. Be sure to follow us on Instagram, Facebook, Linkedin, and Twitter!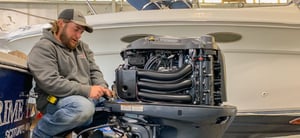 1,521

-Completed Work Orders

South Wharf is our, on-site, full-service yacht yard and marina and throughout the year they have been hard at work servicing boats and catering to our very own customers. With our teams working together, we're able to provide one of the best boat buying and owning experiences in the area.
27,615-Views on Youtube
We love being able to share customer testimonials, boat tours, and other videos on our Youtube, and this year we had over 20,000 views on our channel. Make sure to follow us here to see what we have in store for this upcoming year!
2020 brought many new ways of doing things, but one thing that will never change is our relationships with customers and our drive to bring you the best boating experience. Thank you to everyone who made this year possible. Happy New Year from the Cape Yachts team.