Whether an experienced owner or a first-time buyer, shopping for a boat is a major undertaking. Sometimes first-time buyers react to their initial excitement without fully considering what they need, how big the boat should be, the age and condition, ease of operation, maintenance, and where it will be kept.
Also, you need to first determine how much you plan to pay and how you expect to finance the boat. Impulsive buyers frequently bear that nagging concern that they overpaid after buying the first boat they inspected.
Deciding the Type and Size of Your New Boat
Your most important consideration before shopping in person or on the internet is to understand how and where you plan to use the boat. Knowing the type and size of watercraft you want will narrow the field considerably.
Will the boat be primarily used mainly for fishing or pleasure? And how many people will likely be with you on your outings? Would you be overnighting in the boat or taking lengthy trips? Will you be using the boat on a lake or in the ocean?
A boat used primarily for entertaining and accommodating family and group activities like cruising, waterskiing, or wakeboarding will call for a different configuration than for fishing.
New or Used?
As with cars, the price drops substantially once it is "used." A well-maintained used watercraft can still provide many years of great service. Before shopping, learn what to look for to determine if the craft has been well-kept and gently used or not.
Much like a home inspection, a professional surveyor can provide an expert in-depth inspection before you finalize the deal.
In every instance, a sea trial is warranted before buying.
Where Should You Buy?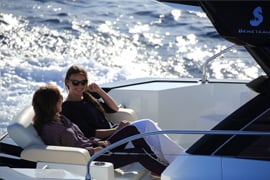 Once you have clearly established your budget plus the type and size of the boat, the time is right to begin looking in earnest. Take your time.
Options for where to look include:
Reputable broker of new and used boats

Manufacturer Direct

Online through a private seller

At a Boat Show
Brokers and Dealers
While there may be certain advantages to each option, remember that the reputation of a brokerage of new and used boats depends on making honest, informed recommendations with no hidden agenda and fair deals. Usually, the representatives understand all the advantages and disadvantages of each brand and can help you find specifically what you need.
As well, the dealership remains your go-to ally for future service, advice, and warranty issues.
Buy Direct from a Manufacturer
While most manufacturers work through dealerships, a few smaller ones will sell direct. This can be a viable option if you are positive you have determined the brand, style, and accessories that you need. If possible, you might consider one of last year's models that may have gone unsold or used for demonstration purposes and exhibition.
Online with Private Sellers
Anything can be purchased online. In fact, several sites specialize in trading used boats.
But you must always beware. Not everyone is completely trustworthy, so use caution when buying from a private seller online or directly. You should give the craft a complete inspection or hire a professional to check it out on your behalf. Sometimes flaws can be cosmetically disguised that will only show up after you have owned the boat for a while.
Boat Shows
Boat dealers and brokers are anxious to make sales at boat shows, often offering deep discounts and deals on new models to make their effort worthwhile. However, you should never be pressured to sign until you are sure of what you hope to buy. This can be a good option if the deal is right.
When Should You Buy?
In the northern regions, late fall and winter are usually the best times to buy a boat and a good time to make an offer. Dealers do not want to be stuck with inventory for several months and are usually ready to make a deal.
Contact Cape Yachts
Serving the Northeast United States, Cape Yachts is a highly respected broker of watercraft of all types. The company represents top brands and maintains an extensive inventory of new and used boats.
Cape Yachts is headquartered at historic South Wharf Yacht Yard in Padanaram Village in South Dartmouth, MA. They also have an office in Newport, RI. To learn more about available inventory, stop by or phone Cape Yachts at (508)-994-4444.