There are very few things in life more exhilarating than purchasing a brand-new cruising sailboat or powerboat. At the right dealership, like Cape Yachts, the buying process should be fun and enjoyable every step of the way. Conversely, there are few things in life more irritating and frustrating than needing service on your brand-new yacht and getting a poor response from the dealership where you just bought it.
Why is that often the case? Shouldn't it work like it does in the auto industry, where every car dealership has a professional and well-organized service department? How is it that you can buy a new yacht for hundreds of thousands of dollars and receive worse followup service from the dealership than you would for a run-of-the-mill Ford or Toyota?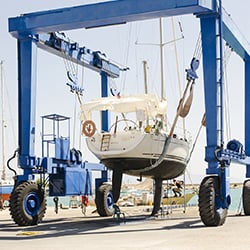 The A large part of the reason has to do with logistics. Much of the service on larger cruising yachts must be performed in waterfront boatyards that are equipped to haul boats out of the water and also have room to stage them on land or in large buildings. Boatyards in New England, especially relative to auto dealerships, are few and far between and not as easily accessible.
Many yacht dealerships are not associated with boatyards and are therefore forced to subcontract their service work, which is inherently less efficient and more expensive. Even the dealerships that do have offices located in boatyards are usually separately owned businesses, so they compete with the boatyard customer base for dates on the work schedule. Boatyard management will naturally favor their regular customers over a dealership customer who is planning on taking the boat away and keeping it somewhere else.
What Makes Cape Yachts Different Than Other Dealerships
What, you may ask, makes Cape Yachts different than other dealerships? In order to answer that question, we have to go back in time to 1998. At that time, I had been working in a boatyard on Cape Cod for a number of years and was ready for a change. I came across a want ad in the newspaper from a company called Cape Yacht Sales. They were looking for a service technician and rigger, and the ad said the job entailed the commissioning of brand-new sailboats. That sounded like fun to me, so I called and set up an interview.
In 1998 Cape Yachts was located on the side of the road at a major intersection on Rt. 28 in Harwich, MA. It was a retail store location across the street from a go-cart track and a supermarket, with no access to the water. There were two buildings on the property, one bigger than the other, but neither very large. One housed a suite of sales offices and a showroom and the smaller building, which I would later learn had once been a pizza restaurant, was the workshop. There were also five or six beautiful brand-new cruising sailboats staged in a row in the gravel yard. They ranged in size from 25 to 40 feet, and their dazzling white hulls made quite a sight.
Cape Yachts, formerly Cape Water Sports, had already been in business for about ten years when I came on board as a member of the service crew. The owners, Dave and Jane Nolan, had started out as dealers for small sailboats, like Sunfish and Hobie Cat, and had progressed over the years to become dealers for several major brands of larger cruising boats, including Beneteau and Catalina, among others. The sales team during that time period was so proficient, that Cape Yachts had become the number one Beneteau dealership in North America.
Unfortunately, the service department during that period was lagging behind the sales department. The facilities at the yard, though sufficient to service small boats on trailers, were barely adequate to service the larger and larger cruising boats they were selling. With no building big enough to put the boats inside, all work on the exteriors had to be scheduled around the often-unfavorable New England weather. The closest place to launch boats was miles away at a ramp in Saquetucket Harbor, which was problematic. Dave hired independent haulers to transport boats down Main Street in Harwich, a procession which required escort vehicles in front and back and someone riding on top of the boat to push wires out of the way with a makeshift wooden crutch. It took half the day to launch a single boat!
We rigged masts on horses alongside the public ramp while another subcontractor with a boom truck helped us step them. Cape Yachts had access to just two slips in the town marina where we finished rigging the boats, a major bottleneck. Once the new owners left with their boats, the follow-up service and warranty work were either sub-contracted out to other boatyards, or we traveled to wherever the new boat ended up and did the work remotely.
We did the best we could in the service department, working on boats outside under less-than-ideal conditions, or driving all over the region in our white van to get to the customers' boats. (I could write a book about the adventures I had working with my partner Peter Pepi, a fanatical technician who always went above and beyond to get jobs done, and then went above and beyond celebrating afterwards.) Still, in spite of our Herculean efforts, we failed to keep up with the sales department, which was selling boats like crazy. There were always a few unsatisfied customers, which was not acceptable for Dave and Jane. They wanted every single new boat customer to have the same first-class experience with service as they had with the initial buying process, and there were too many falling through the cracks.
In short, Cape Yachts was in the same situation as most dealerships, with the inability to really control the customer's experience after the purchase of the boat. One day Dave let us in on what he planned to do about it.
"I promise you guys," he said. "Someday we will own our own boatyard on the water, guaranteed."
Dave, Pepi and I were standing in our tiny "shop," the converted pizza restaurant where we had our workbench and tools and a few sagging shelves loaded down with parts. It was cold and drafty, and the only warmth came from an electric space heater at our feet. I had been working at Cape Yachts about three and a half years by that time and was starting to get discouraged by the less-than-ideal working conditions and our inability to keep up with the sales department. Dave, maybe sensing we were at a breaking point, had walked over from his warm office to give us a pep talk.
"Imagine when we can put the boats inside heated buildings," Dave said. "And we have a full mechanics shop and a full rigging shop and a real parts department... We'll have a Travel Lift and a crane and we'll do all the hauling and launching ourselves… You won't have to worry about dealing with any unsatisfied customers…"
"Are there any boatyards for sale anywhere?' I said.
"Well, no, not right now, but we have our feelers out there."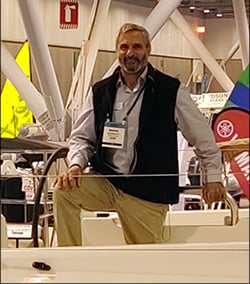 I'd worked in boatyards my whole life, in Connecticut and Massachusetts, and I knew that they rarely went up for sale. I'd known a few boatyard owners, too, and almost every one of them was a ruthless pirate. Dave, with his mild-mannered personality and accounting background, didn't seem like a typical boatyard owner. I thought his talk of buying a boatyard was just pie-in-the-sky stuff to keep us motivated. Shortly after that, I left Cape Yachts and went to work as a technician and rigger at a large full-service marina, where I remained for the next eighteen years.
Meanwhile, Dave and Jane actually did move ahead with their plans. In 2006 they purchased the historic South Wharf Yacht Yard in South Dartmouth, Massachusetts, in the village of Padanaram. The boatyard had fallen on hard times, but they restored and renovated it, which had the effect of improving the entire village. More importantly, they finally had the facilities and control to back up their sales department with a top-notch, in-house service organization.
Fast forward to the year 2019. I had just turned 61 years old, and after shoulder surgery, I decided I could no longer do the physical work on boats anymore. It was time to try the cushy lifestyle of a yacht broker, so I contacted my old bosses Dave and Jane Nolan at Cape Yachts, and they were nice enough to offer me a position with their sales team.
I've learned a lot in my short time back working as a yacht broker for Cape Yachts. First of all, I've learned that the lifestyle of a yacht broker is not that cushy, but that's beside the point. I've learned first-hand how Dave and Jane have managed to integrate a new boat dealership and a full-service boatyard to a degree that is rare in the industry. Now the focus is split evenly between sales and service and might actually lean more towards service. The technicians, besides working in a beautiful, historical setting, and having all the equipment and facilities they need, also have access to constant factory training in their respective fields. This factory training is extremely important in this day and age of modern yachts with multiple complicated systems and is not emphasized by all service departments in the industry.
I'm here to tell you that service at Cape Yachts has come a long, long way from those early days on Rt. 28 in Harwich. We now stand apart from other dealerships as a one-stop sales and service company, where every new or used boat customer can rest assured that a responsive, well-equipped and highly trained service department stands behind their purchase. That's priceless!
If you are interested in learning more about our first class yacht yard and marina or if you are looking to buy or sell a boat, please contact the professionals at Cape Yachts today! I can assure you, you will be happy with the service.
t