Why I Questioned Beneteau
Having spent the first 30-plus years of my professional career building semi-custom, high-quality, sail and power boats, I like to think I know a thing or two about marine manufacturing and what it takes to build a good boat. Many of us in the business around New England were pretty proud of our efforts and questioned the quality and reliability of the much less expensive production-built boats. So, when the opportunity arose to leave the manufacturing world and join the Cape Yachts team in 2008, I have to admit, I had my nose in the air about representing Groupe Beneteau. After all, how could a boat that cost so much less than boats I built be any good – right?
Well, that was eleven years ago and I've learned a lot since then. For one thing, Beneteau is the largest builder of recreational sail and power boats in the world. They are very diverse and build from small outboard boats to large catamarans to custom Monte Carlo Yachts over 100' and the highly-customized CNB Super Yachts up to 120' They got that big by being that good.
Why I Changed my mind
Family run since its inception in the 1890s. Beneteau has thrived by always being an innovator. As early adapters Beneteau was one of the first to fit engines in fishing boats in early 1900s, first in production to add swim platforms and walk-through transoms, first to add hard chines to cruising boats and first to add foils to a production performance monohull.
Being the biggest gives Beneteau some distinct advantages. Buying power is established by volume, so a company ordering thousands of motors a year will be paying less than a company that buys a few. The same applies to the glass and resin, wood and hatches, the screws and all the bits and pieces used in boat building. With huge volume comes the ability to invest in cool production tools as well. One machine that finishes plywood panels is 400' long and is completely automated. A newly varnished plywood panel is ready to go every eight seconds! Similarly, one machine in the lumber mill can make all the radius and bulkhead rabbet cuts to a corner post in one pass and they can do hundreds of linear feet at a time. There are cages full of hydraulically controlled metal forms for the laminating of large curves, most other companies handle this on plywood forms with clamps one piece at a time.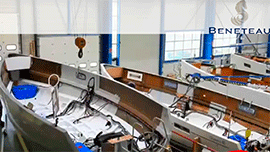 With production comes efficiency, and no one is more efficient than Beneteau. An example of this is how they treat wood parts made in the mill and delivered to the assembly floor in a different factory miles away. Each piece is barcoded and placed in a large metal bin in the exact order the person in assembly will need them. No searching around for the right part. Boats move with precision along a production line. Vacuum infusion technology uses double molds for finished surfaces inside and outside and robots spray gel coat with more precision and more efficiency.
The high quality that results from this production capacity is a topic for another article, but ultimately the answer to the question, "Why Choose Beneteau?" is they have the "Highest Value Available! " That's a good reason to choose a Beneteau Yacht.
"When you choose a Beneteau Yacht, you benefit from expertise second to none. From R&D to industrialization, the brand and the group have been working for over 130 years to build innovative, reliable and competitive boats."
If you are interested in learning more about Beneteau power and sail yachts, contact Cape Yachts today. We are available to answer any questions you have about why Beneteau Yachts are the best value and quality available on the market.