Boating has come a long way since those primitive dugout canoes of early Native Americans and the crude rafts that bore Polynesians throughout the South Pacific. Most advances in boating resulted from the desire for more space, more exceptional durability, higher levels of performance and functionality, more comfort, safety and speed.
Advances Continue with Jupiter Marine
For over thirty years, Jupiter Marine has blended great looks, exceptional seaworthiness, and quality construction with adaptability and passenger comfort to create their superior line of outboard-powered offshore sport fishing boats. By employing advanced design techniques and master craftsmanship, Jupiter Marine presents an extensive range of options that is unparalleled in the boat-building industry. Since the company's founding by the legendary boat builder, Carl Herndon, Jupiter Marine has developed a passionate following by listening to customer needs, applying new technologies, and striving to create high quality, practical, and durable products using the best materials and an inherent pride of craftsmanship.
Why Are Jupiter Marine Boats Superior?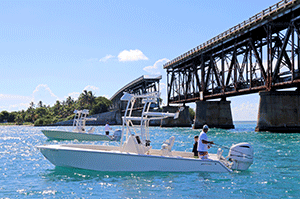 Jupiter Marine sport fishing boats offer unmatchable quality. Durable, comfortable, and fast in big seas, Jupiter Marine boats move from Point A to Point B in the shortest time without drenching the occupants.
In 1991, Herndon and his team of expert craftsman introduced the Jupiter 31, a pace-setting entry into the world of offshore sport fishing boats. From that beginning, loyal customers continue to watch closely as the Jupiter professionals introduce newer, more advanced options.
Performance and structural features that set the Jupiter Series apart are:
Jupiter's Hull Pad Design (Posi-stern) positions the hull speed to create the smoothest ride. With less drag, fuel economy is substantially improved

Hand-finished solid fiberglass hull bottom

Hand-laid fiberglass with multidirectional orientation

Unique stringer system

High-quality plumbing and electrical installations

Incomparable fit and finish in all products

Transferable lifetime warranty for structural integrity
Jupiter Boat Models
Since the creation of Jupiter Marine, the Company has met market demand with a continuing string of products to meet specific requirements for performance and capacity.
Today, the Jupiter Marine Line incorporates a range of standard features with many optional performance-enhancing features. The range consists of:
Jupiter 25 Bay: shallow water hybrid sport fisher

Jupiter 26 FS: trailerable, with a yacht-level performance at lower cost

Jupiter 30 HFS: ample seating, perfect for fishing and families

Jupiter 34 HFS: smooth and dry in all sea conditions, perfect for tournament anglers

Jupiter 38 HFS: equipped for handling big catches and a spacious bow seating area

Jupiter 41 SB: beautiful enclosed sport bridge and galley with high-level sport performance

Jupiter 43 SF: designed for optimal fishing performance, focused on performance, speed, and comfort
Each model brings an extensive line of standard features. Future owners may also use the Jupiter boat configurator to customize a selection with different performance, style, and comfort-enhancing options.
Contact Cape Yachts to Buy or Sell Your Boat
Trying to sell your yacht or fishing boat by yourself limits the number of prospective buyers and often results in a lower return. Similarly, as a buyer, working with a broker expands your choices to find exactly what you are seeking.
Cape Yachts' professional sales team, headquartered at historic South Wharf Yard in Dartmouth MA, has been matching buyers and sellers with high-quality classics and late model, high-performance boats for over thirty years. The experts at Cape Yachts understand current market values and help sellers with strategies to present their yachts in the best possible manner through high-quality print and media advertising.
To learn more about buying buying a Jupiter Marine boat or any of our other dealer boats, please contact us today! We are here to answer all of your questions.