The cost of owning a boat depends on the type, size, and location of the watercraft you are planning to purchase. Whether you hope to cruise the intercoastal waterways, sail the open seas, or fish in the Great Lakes, the costs may vary substantially.
Matching your finances with your boating dream requires a thorough investigation.
Purchasing a Boat
What do you want to do with your boat? Will you be a weekend fisherman or a frequent family cruiser? Or, do you dream of becoming a full-time liveaboard? Each option involves decidedly different costs of buying, operating, and maintaining.
In general terms, your overall costs can be boiled down to the following:
- Purchase Price, Closing Costs, and Taxes
The boat type, size, accessories, and luxury features, as well as market conditions, will determine your purchase price.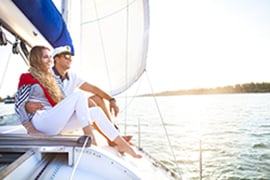 The age and condition of the watercraft will also drive its selling price. Using a boat broker to buy your next boat may help you find your dream boat faster. Boat brokers like Cape Yachts in South Dartmouth, MA offer hundreds of beautifully maintained new and used boats of all sizes for sale. Don't forget to add the trailer cost for towing smaller boats or a professional boat transport for larger ones.
Borrowing will include closing costs and title transfer much like a home mortgage. Consult your favorite banker to discuss borrowing rates, terms, and closing costs. Many banks and credit unions will lend for up to 12-to-15 years for a boat purchase.
Don't forget that a sufficiently equipped yacht or sailboat may qualify as a primary or second home. And, you may use it as a business entertainment venue, so many of your expenses could be tax-deductible.
Taxes will depend on the state in which you are making the purchase and keeping your new boat. Most of these are intended to maintain the harbors and waterways that you will be using.
There are three types of taxes to consider:
Sales Tax rates are directly related to the sale price. It is essential to ask your broker about the pertinent sales taxes when negotiating the price. Delaware and Rhode Island have no sales tax on boat sales. In New York, the boats sales tax is only charged to the first $230,000. Other states, like North Carolina (3%) and Florida (6%), for example, charge a flat rate.
Note that there can also be local, municipal, or county taxes to manage.
Use Tax is levied in the state where you will be keeping the boat. If you bought the boat in another state, you might be able to avoid that state's sales taxes if you pay the use tax in the state where you keep it. Be careful to clarify this before you buy.

Annual Personal Property Tax may be levied for any moveable assets like a boat, airplane, or motorhome. Check your local tax authority about how this tax may affect your total costs.
Documentation
Your boat requires documentation for identification. According to BoatUS, your powerboat or sailboat must have either federal or state registration. Each should correctly display their assigned Vessel Registration Number, Vessel Name, and Hailing Port.
The cost of documentation may vary from $500 to $3,000 depending on the services that the documenting agents are offering. Discuss this element with your broker before you buy.
Insurance
As with your home or auto, you will need to have liability insurance. If you are borrowing, the lender will require comprehensive insurance to protect the asset in case of severe damage. Discuss insurance rates with your agent to ensure you have the right coverage. The rate will depend on the value of your boat, location, and how it will be used.
Slip or Dockage Rates
The cost of docking your boat depends on where and how long the boat will stay. Check around since these rates vary substantially depending on demand and the time of year.
An average in the United States is $50-per-foot-per year. A 30-foot boat would run about $1,500 per year although many marinas will demand far more.
Storage
Storage costs depend on where you will be keeping your boat when it is not being used. If you cannot keep your boat at home, you will need to store your craft to protect it from the harsh weather. You can choose either inside or outside storage. Outdoor storage in northern climates often involves shrink wrapping the vessel for additional protection.
Check marinas and storage facilities for a competitive option. Depending on the boat's size, the cost of indoor winter storage can range up to $500 per month.
Maintenance
Caring for your boat engines, sails, and other components is an integral part of your boating experience and for extending the life of your watercraft. Boat maintenance requires much the same maintenance and cleaning as a motor vehicle.
However, in saltwater conditions, the costs of these and other elements like hull maintenance can rise substantially.
Eventually, sails, engines, and upholsteries will need to be updated.
Contact Cape Yachts
Situated in South Dartmouth, MA and Newport, RI, Cape Yachts' experts will help you calculate an accurate purchase and maintenance estimate. As longtime sellers and brokers of high-quality watercraft, these professionals understand every aspect of boat ownership. Visit them online today, to see the current listing of new and used boats.