The Sailing Lifestyle
Very few activities evoke the same sense of escape as sailing upon the open seas. Most weekend sailors dream of cutting their land-bound ties and selling their homes to embrace the sailing lifestyle full time. Some plan for decades to enjoy the boating life when they retire, while others can take the plunge much earlier. Many avid sailors use the summer months, while the kids are out of school, to sail to dream destinations while enjoying their family time together.
Why Do People Choose the Sailing Lifestyle?
Most of us spend a considerable portion of our lives working to house, feed, clothe, entertain, educate, and furnish ourselves and families with a comfortable lifestyle. We fight traffic, endure harsh winters, pay ever-growing utility bills and property taxes, and suffer the many mental stressors that bombard us daily.
Escape, You Say? Consider the Freedom that a Sailing Lifestyle Offers
Sailing from port to port, enjoying the skies and salt air, and simply relaxing aboard a sailing yacht is a realistic dream for many. As you move about, you are likely to meet and become friends with other like-minded people who share the same interests.
Planning Your New Life on Board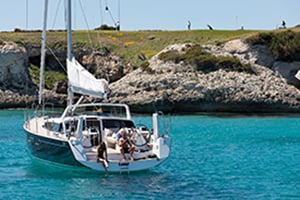 Near-retirees who dream of the sailing lifestyle have calculated and strategized how they will replace their workday schedule with a less-programmed, more worry-free existence. Depending on your situation, you may choose to sell your home, bank the equity, purchase the yacht (if they haven't already), and set sail.
Often, mid-career individuals and their partners suddenly realize that the daily grind is not providing the enjoyment they had hoped. Sensing that they have been missing out on travel, unique experiences, and a pressure-free existence, they decide the time is right to cash in, climb aboard, and enjoy a more fulfilling life.
Young people, who have the means to do so, enjoy the sailing lifestyle for a year or two before seriously embarking on their career goals.
And, many fortunate individuals enjoy professions that allow them to work while on their boat, staying connected via wifi and phone. Besides systems that connect to shore-side access points, there are even satellite connection systems available while at sea.
What Does a Sailing Lifestyle Cost?
Just as with life on land, how you live depends on how much you wish to spend.
While freedom is never totally free anywhere, life aboard a sailboat can cost less than living in a land-based home. As a live-aboard, your main expenses will be the cost of owning and insuring your sailboat, ongoing maintenance, and where and how much time you will spend at a marina.
If you will be living aboard full-time, you can budget these items under the categories of "Housing" and "Travel."
When financing your sailboat, you will have similar principal and interest costs as when you purchase a home.
Insurance will depend on the type, length, and other specifications of the boat. As with a motor vehicle, insurance companies may factor into the premiums your vehicle and boat driving records, past claims, the region, gender and age, and more.
Marina costs vary from location to location and likely depend on the size of your craft. It is important to research these in advance.
Maintaining Your Sailboat
Keeping your sailboat in top condition helps to preserve its value, just like with your home on land. In addition, ongoing preventative maintenance reduces the likelihood of unexpected downtime.
For maintenance, what you spend depends on the type of boat, how often and how hard you use it. With a sailboat, the sails, vinyl, and fabrics may need to be replaced every five years or so. One source, Yachtworld, suggests that you set aside an annual maintenance budget of approximately 10% of the value of the boat. If your sailboat costs $250,000, for example, prepare to budget $25,000 per year for both scheduled and unscheduled maintenance and replacement. This should keep the boat running and looking great while keeping your investment intact.
Add in normal living expenses like food, entertainment, supplies, clothing (less will likely be required), and laundry.
Check the BOATING Inventory at Cape Yachts
The professionals at Cape Yachts understand the ins and outs of life aboard a sailboat. In business since 1986, Cape Yachts is a broker and seller of the top brands of sail and motor watercraft.
Headquartered at the South Wharf Yacht Yard in historic Padanaram Village in South Dartmouth, Mass., Cape Yachts also has a location in Newport, Rhode Island which is a great sailing town.
To learn more, visit our website to view our current inventory of beautiful, well-equipped sailboats. If you have any questions about features or pricing and to learn more about the sailing lifestyle, contact the Cape Yachts experts at +1-508-994-4444. We would be happy to answer all of your questions.
.