Maybe your fantasies of sailing away on an extended sea adventure or even dreaming of life aboard a yacht full-time are still slightly somewhat vague. You can bring those dreams into greater focus when you check out the latest Oceanis Sailing Yachts built by one of the world's leading yacht design innovators, Beneteau.
The newest Oceanis Sailing Yachts offer the latest technical advances in sailing combined with plenty of luxurious space and accessories for a comfortable life aboard.
Beneteau's newest entries into the sailing yacht market are the Oceanis Yacht 54 and the Oceanis 40.1. Both sailing vessels come with characteristics that place each at the highest level of cruising comfort.  These new models complement the already popular Oceanis sailing lineup noted for hydrodynamics, sleek finish, comfort, functionality, and single-handed sailing capability.
Oceanis Yacht 54
With the new Oceanis Yacht 54, the designers at Beneteau once again targeted their vision toward unrivaled performance, luxurious living space, and elegance. They intended to design a sailing craft that is comfortable under any conditions, efficient, attractive, and enjoyable to operate. With these new designs, they clearly succeeded in their mission.
So, what are the characteristics that make the Oceanis Yacht 54 special?
Innovative, People Friendly Cockpit and Deck Design
Designed with Beneteau's standard mainsail arch, the cockpit of the Oceanis Yacht 54 is entirely open, allowing for natural movement and plenty of space. Passage to the sidedecks is unimpeded while traveling to the foredeck and is safe with the craft's high bulwarks and wide catwalks. The yacht also comes with an expansive swim platform aft and a broad foredeck for relaxing.
Maneuverability and Operations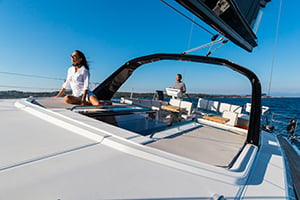 The Oceanis Yacht 54's Easy Sailing navigational aids simplify sailing. Other advanced features that add pleasure and facilitate sailing operations are the intuitive Ship Control feature that provides real-time data for all systems;  a Dock & Go System with a joystick that allows you to manage tight spaces easily; Harkin AST (Assisted Sail Trim) that automatically trims sails to change direction.
Three-Cabin Interior Decked with Light Oak or Walnut Trim
With a cabin consisting of three spacious cabins and a choice of either two or three heads, the Oceanis Yacht 54 is designed for comfort, luxury, and light. Buyers have a choice of two different wood tones, dark walnut or light oak, to accent their plush living space.
How About Beneteau's Oceanis 40.1?
Modeled after its popular sister ship, the Oceanis 50.1, the high-performance Oceanis Yacht 40.1 offers a slightly more compact version with a very creative interior space design. The 40.1 is available with different layouts, draughts, and rigs to match your preferences. While the yacht's interior feels much larger than it is, this sleek-styled 12-meter cruiser offers substantial speed potential with a smooth ride.
Designed for You
The Oceanis 40.1 is presented in a range of styles with many accessories to enhance the ease of sailing or enhancing the craft's performance. Buyers can select the First Line version with a longer mast and deeper draught. Or, for comfort, you may choose accessories that permit simple sailing and pleasure boating.
Interior Volume
The Oceanis Yacht 40.1 comes with a choice of 2, 3, or 4 cabins to accommodate you and your passengers. With state-of-the-art Italian styling, the yacht has plenty of space for two bedrooms with a spacious living area, fully equipped galley, and head. One version offers an ensuite shower in the master cabin.
Hull and coach-roof portholes provide plenty of natural light.
Learn More at Cape Yachts
Since a picture is worth a thousand words, visit the Beneteau website to view their gallery of photographs of exteriors and interiors of these remarkably elegant and maneuverable sailing masterpieces.
To learn more about Beneteau's new market entries, or anything else related to enjoying life at sea, visit Cape Yachts in South Dartmouth, MA. Cape Yachts is an exclusive regional sailboat and powerboat dealer for Beneteau watercraft for sailing, sport boating, fishing, and cruising. From their South Dartmouth and Newport, RI, offices, Cape Yachts serves Cape Cod, New England, and many parts of the Northeast.