What's So Special About the CABO 41 Sport Fishing Yacht
The CABO 41, It's new, it's shiny, and we all can't wait to see it in action. In the past CABO has produced well-loved and trusted sport fishers, but eventually production stopped and CABO became far and few between. Hatteras has recently picked up CABO and revived it, giving us the newest in the sport fishing world. But what's so special about this boat anyway? Well, the CABO 41 is a one-of-a-kind sport fishing yacht. She mixes versatile sports equipment and capabilities, with a sleek, modern design. The innovative vessel is guaranteed to leave you thrilled and blissful at the same time.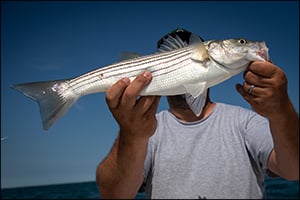 Overall the CABO 41 has a length of 42 feet 10 inches. She's a perfect midsize for staying safe and comfortable, while doing some serious offshore sport fishing. The CABO has a deep V hull which allows her to remain steady and in control even in difficult situations. She also has wrap-around tempered glass, keeping you protected and giving you optimal visibility. She also comes standard with twin Volvo D11 Engines, giving you maximum power and more time on the water.
For the sport fisherman, the CABO 41 is truly a dream. She offers a 48-gallon live well and a tuna door on the port side for your heavier catches. The CABO also has plenty of rod storage, including a creative rod space located in the shower. Who needs to shower when you're on the ocean anyway?
Along with being sport-ready, this vessel is also prepared to entertain and accommodates four people comfortably. She has a beautifully-designed master suite with classic wood accent throughout the whole interior. Her bathroom includes a vanity and a flush toilet, and she has enough kitchen space to cook dinner and make dessert. Her settee also includes the same classic wood accent and is the perfect place to relax with family and reflect on who had the largest catch of the day.
If the CABO 41 sounds like the sportfishing yacht for you, please contact Cape Yachts today! We would be more than happy to schedule you for a sea trial or provide you with more information on the newest CABO.