Every once in a while a boat comes along that blurs the lines between sport and luxury. We've seen it before with Hatteras Sportfishing Yachts and the Cabo 41. This time Cobia is bringing their A game to the table with a new 35-foot center console. The Cobia 350 CC debuted this year and instantly caught our eye. Cobia has always provided high-quality center and dual console boats, successfully packaging together hours of fun on the water in a powerful yet easy to handle, mid-sized package. The 350 CC brings all of this to the table... and then some.
If you are looking for a powerful sportfisher for cruising Buzzards Bay, This Cobia is for you!

She's got two 42-gallon bait tanks, so you're sure to make that big catch. She's also got two in-floor fish boxes and a secret below deck rod storage locker, so you can sleep in peace knowing your rods are safe and sound. The Cobia 350 CC also sports a side door for grabbing that prize tuna. When fishing you can enjoy the comfort of her size and maneuverability, while also taking advantage of her advanced technology and sport specific features.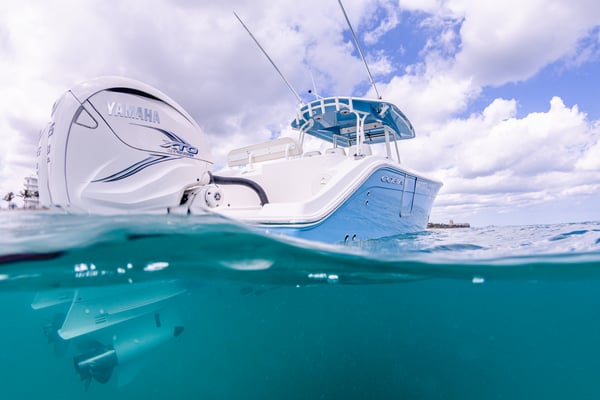 If soaking up the sunshine and finding your own little paradise is more your style, this Cobia is for you.
She sports a chaise lounge and two full sun lounges for sunbathing any time of day. May we also add that these spots are also very nap worthy. The 350 CC's size makes her perfect for exploring new beaches, and her speed makes her quick to hop from one to another until you find that little slice of paradise. When the sun finally soaks in and the fishing has come to an end, the Cobia 350 shines with her spacious berth. Apart from her predecessors who only have a head, the 350 CC includes an electric head, berth, and sink /shower. All these components are brought together with refined wood and immaculate attention to detail.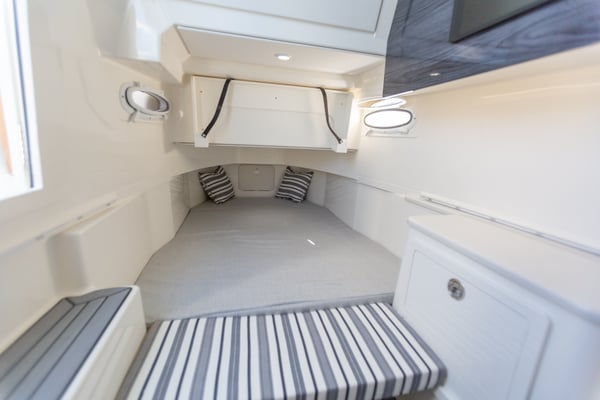 So, if you prefer sport, comfort, or a little bit of both, the Cobia 350 CC is the center console for you. Don't hesitate to see this powerhouse in action. Contact us today, at Cape Yachts for more information.