There are plenty of places out there to purchase a boat, and there are thousands of people who make selling you that boat their lifelong career. So why choose us? What's so special about Cape Yachts? We interviewed two of our professional yacht brokers to see what sets them apart.
Richard Moore and Mark Edwards are two of Cape Yachts Certified Professional Yacht Brokers."CPYB Certification is the mark of excellence for yacht sales professionals throughout North America. CPYB brokers have met professional qualifications and have successfully passed a three-hour examination, testing their skills and knowledge as yacht sales professionals," (cpyb.net). Both Mark and Richard have decades of boating experience and both sell with contagious passion and enthusiasm. It is clear that they love what they do and they are eager to share that knowledge with you!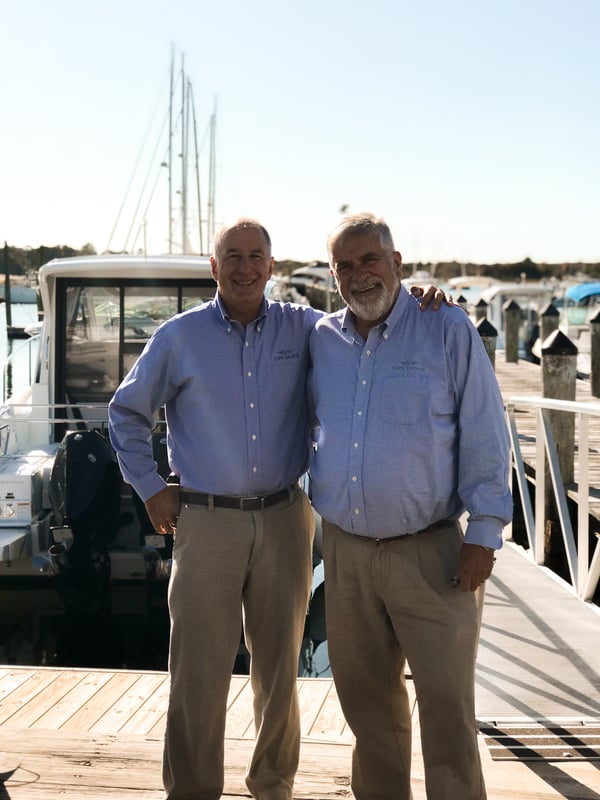 When meeting a new customer both Mark and Richard put a large amount of effort in making genuine connections. They like to say that they flip the sales process upside down, valuing connection and giving themselves the ability to find the perfect boat for their customers. As Richard says, "God gave us two ears and one mouth, listen more and talk less."
As a result, both Richard and Mark have continued to create relationships that last a lifetime, introducing many to the yachting lifestyle in a way that they will never forget. They both create a trustworthy and enjoyable buying process that gives their clients peace of mind. Bringing to the table a broker experience, that sets the bar sky-high for future purchases and having many of their customers come back years later to purchase their next boat.
Nowhere else can you find Professional Yacht Brokers with such passion, not only for the yachting world, but for seeing a smile on their client's faces as they break their bottle of champagne over the anchor of their new boat.
You can contact Richard and Mark as well as our other professional sales team in the Cape Yachts office located in Padanaram Village at 218 Elm Street, S. Dartmouth, MA. If you're thinking about buying a new or brokerage boat, please give them a call. They will take great care of you!