Most experienced sportfishing fans have a clear idea about the looks and features of their next sportfishing yacht. Many consider functionality, maneuverability, and speed to be most important while good looks, comfort, and capacity are essential to others.
Prioritizing your preferences is the first step in selecting your next sportfishing yacht. Whether you are buying new or used, make sure you get what you need.
Working with a Professional Yacht Broker
Choosing an established and reputable yacht broker with years of experience is the most crucial first step in selecting the right sportfishing yacht. The company's reputation depends on credibility and, therefore, are genuinely committed to satisfying the needs of each buyer. These professionals understand what is vital for both fisherman and pleasure cruisers and can help define the best components for each.
The professional yacht broker will help you prepare a checklist to include all the elements you may be seeking, while keeping the cost within your limit. They understand which brands provide the best sportfishing capability and comfort.
Center-Console or Sportfish Convertible
The two most common sportfishing yacht styles are center consoles and convertibles.
Center-consoles are fast and usually well-equipped for tackle and storage. These may be equipped with berths and air conditioning. Because the console is center-mounted, all will have 360° of uninterrupted fishing space along the yacht's perimeter. Some center-consoles attain speeds of 65-70 mph and average 30' to 40' in length.

Sportfish Convertibles are usually designed with more luxury features for longer outings. Often these come with luxury cabins, bathrooms, kitchen and living areas. They can run long distances without refueling, up to 600 miles off the U.S. Coast. Most 40' to 65' long, sportfish convertibles are often equipped with a fighting chair for battling those large gamefish.
What's the best Yacht Size?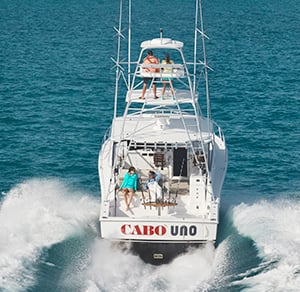 Before considering the functional elements of a sportfishing yacht, think about the size and capacity needed for your dream boat. Working with your professional broker, you can determine what is best for your specific expectations and budget. Some questions to ask are:
How will you be using the yacht? Will you be only sportfishing by yourself or with one or two others? Will you also be cruising with family or several friends?

How long will you plan to be out? Will you be making day trips only or some longer overnight or several-day excursions? Make sure the space-per-passenger is ample, or the journey can become uncomfortable for all.

What will be the most people you would ever accommodate, even on a day trip? Keep in mind how many new/old friends may appear after you have purchased your sportfishing yacht.

Will you be fishing in the open seas or coastal areas exclusively?
Functionality of Your Sportfishing Yacht
Performance
Moving rapidly to your favorite spot can be extremely important for the experienced sportfishing enthusiast. And, being able to move from one fishing area to another at high-speed will maximize the outing and get the most out of the trip.
Also, riding comfort is an important consideration. How will the craft handle when moving through rough seas? Some design features like a larger-flared bow or more forward center of gravity can make the boat move more smoothly through the water.
Fishing Gear
Does the yacht have all the necessary rod holders, fishing chairs, GPS, and electronic fish finding equipment? Is it equipped with enough storage for tackle, bait, and other necessities of an extended fishing outing?
Condition of Used Sportfishing Yachts
Carefully inspect to make sure any used yacht is in top condition. Well-maintained sportfishing yachts can bring top dollar, but the buyer will experience fewer regrets if the yacht is in top condition. Your broker representative should be able to provide industry documentation of the yacht's sales history, so you will know how often the craft may have changed hands.
Contact Cape Yachts
The professionals at Cape Yachts can help you with answering the questions that will help you select the right sportfishing yacht for you. They have sportfishing yachts available from Hatteras and CABO as well as brokerage boats by other brand names.
They will be debuting the all-new CABO 41 sportfishing yacht at the Newport International Boat Show in Newport, RI in September. Stop by and step aboard the sportfishing yacht of your dreams. We would be happy to show you around and answer any quesitons you might have about this and any other boat or yacht you might be interested in.
If you are looking for a new or brokerage boat, start your quest with a visit to Cape Yachts office at historic South Wharf Yard in Padanaram Village in South Dartmouth, MA or at Christie's Landing in Newport, RI, the sailing capital of the world.
Visit the Cape Yachts website to view some of their current inventory of high-quality watercraft or phone for an appointment at 508-994-4444. We're here to answer all of your questions and recommend the best boat for your needs.