Things to Consider When Buying a Boat
Whether you are an active angler, a veteran sailor, or one who has only dreamed of sailing from port to port, you may be planning to buy a new boat. A new craft might be a replacement for your current one, an upgrade, or the yacht of your dreams.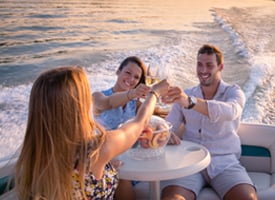 No matter what your situation may be, a systematic approach is usually the best. Knowing when to buy, what type of boat, total cost, where to store, ideal size, and whether to buy new or used are questions you will need to ponder. Overlooking any of these elements can cause considerable concern later.
When is the Best Time to Buy?
While there is never a set rule for this question, buyers in the Northern regions can typically do best when purchasing in the autumn. Sellers often wish to avoid storage costs and handling during the winter and may consider a lower offer during this time.
However, in the warmer climates like Florida or Southern California, just about anytime is the right time.
What is the Right of Boat for You?
Boats are used principally for three primary purposes. These are fishing, watersports, and cruising. Of course, many boat owners use their watercraft for more than one activity, but your choice should center around the principal function. If you are a deep sea angler, for example, you may select a more robust, center console fishing boat with all the appropriate fishing accessories.
On the other hand, if cruising or living aboard happens to be your goal, the boat should be equipped with plenty of creature comforts including a well-designed galley, staterooms, comfortable seating inside and out, bathrooms and showers, protection from the elements, and a hull designed to minimize motion in heavy seas.
What is the Right Size Boat for You?
If you are an experienced boat owner, you probably already know which size boat works best for you. Perhaps you have dreamed of upgrading to a bigger boat or realize that a smaller one would provide better performance.
If you are just starting, remember that bigger is not always better. However, bigger is usually more expensive. Considering how much you are willing to spend can often define your options.
Consider the following questions:
How will you be using the boat?
Are you expecting to haul it with a trailer?
What is the usual number of people who will be aboard?
What size are you capable of maneuvering safely?
Will you be living aboard for weekends or longer?
Will you be operating on the open ocean, in protected bays and channels, or on freshwater lakes.
A well-maintained used boat that has had the necessary refurbishments and service can be an exceptional choice. Much like a used car, the initial depreciation has already occurred, and prospective boat owners can benefit here.
If the boat is used, make sure you and a qualified expert inspect each aspect of the craft before deciding. Not too surprisingly, a used boat can even end up costing more than a new one over the long haul.
Financing can make the boat you are interested in more accessible. That is why the majority of boat buyers seek financing from a professional marine finance company using the boat as collateral. Marine lenders offer competitive terms and fast credit decisions as boat loans are at the core of their business. Some will even allow tax and extra marine options and accessories to be included in the loan amount.
Know the Total Cost of Ownership
Plunking down the money for the purchase price of the boat of your dreams is only the beginning. Don't forget that you also will have additional costs at closing, plus you may have a sales tax, use taxes, and, in some places, personal property taxes. Insurance also will be an ongoing cost.
Naturally, you will have standard operating costs like fuel and maintenance. Slip or dockage fees are typical during the active months but don't forget the cost of transport and winter storage.
Refurbishing, restoring, and replacing some elements are ongoing expenses for boat owners. You will always need to keep your boat in top condition to last longer and maintain decent resale value.
Where will You Store Your Boat?
Winter storage highlights another critical cost of boat ownership. Where will you keep your boat during the cold months when the weather prevents you from enjoying the possibility of being on the water.
Options include:
Storing at home if local covenants will permit and you have a way to transport the craft
Dry storage outside at or near the marina
Wet storage, as long as the water does not freeze. Keep in mind that saltwater will corrode the hull over time
Boat lift storage
Inside storage
Why Work with a Broker?
When beginning your search for your ideal boat, your best choice is to select a reputable broker to help you. Professional and experienced brokers provide an all-important linkage between prospective buyers and sellers of used boats. Some brokers, like Cape Yachts in South Dartmouth, MA, also represent some of the top boat-building companies. In this role, successful brokers provide a clearinghouse for hundreds of currently available vessels from just about everywhere in the world.
Why Choose Cape Yachts to Buy a Boat?
Are you interested in buying or selling a boat? Let the professionals at Cape Yachts help. We have been matching the right boat to the right family since 1986.